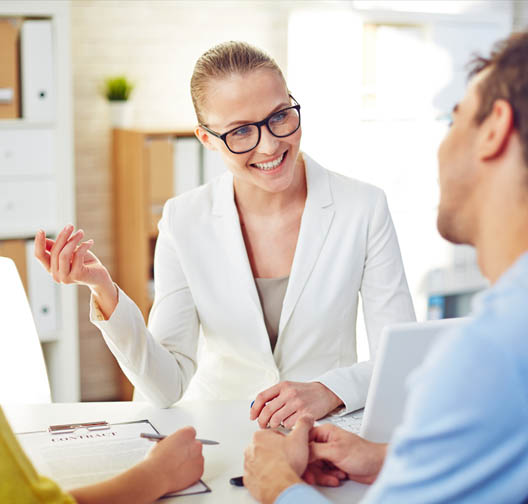 We Hold Your Hand Throughout The Entire Process
---
APR Mortgage LLC assists our clients with all matters relating to real estate and mortgage. Our goal as a company is to provide our clients with the confidence and experience to enable them to purchase the home of their dreams. We specialize in handling difficult loans that banks will not handle. We know that applying for a mortgage requires an inordinate amount of paperwork and attention to detail. We are dedicated to streamlining that process for our customers.
We keep abreast on the very latest developments in the real estate & mortgage industry to include our membership in the Mortgage Bankers Association. Our insights and research into the health of industry from keeping up with Housing Affordability Index and legal compliance criteria help keep you out of trouble in the long run and enable you to enjoy your new home purchase with peace of mind.
---
Why APR Mortgage?
---
APR Mortgage LLC delivers results with integrity, transparency and trust. We live to help you make your dreams come true by providing funding for mortgages that is sound and lowers your long term risk. The history of APR Mortgage is one of pride.
We started out in the financial industry and because of this we have a deep understanding of how financial markets work relative to their impact on the mortgage industry. APR Mortgage LLC's only business is mortgage's and unlike a big commercial bank, we are not limited by accepting only the best credit risks, but can afford to consider others. We customize our products to meet your special circumstances and work hard to find a loan that works for you both in terms of risks and amount.
Some of our products and profiles we accept include:
Reverse Mortgages – very helpful for many of our older Sarasota residents
Purchases
Refinances
1st Time Homebuyer Programs
FHA/VA Direct Lender
Debt Consolidation
Foreign Purchasers
Self-employment documentation
Investor Programs
Private Money Programs
At APR Mortgage LLC it is our pleasure to make your lending experience a pleasure and not a hassle. As Mortgage Service professionals entrusted with sensitive financial information, we respect the privacy of our clients and have established standards and procedures to safeguard your personal information. We are required by law to list the following licensing information NMLS # 390675. Please call or send us an email at [email protected] if you have any questions about this offer.
"APR Mortgage was amazing to work with…AGAIN! This is our third mortgage with APR and they have never disappointed us either during the lending process or after closing with the day to day partnership."
Michael M. – Tampa, FL.
"Thank you so much for helping us get our new home! We absolutely love it. It is so much better than we ever expected. Thank you for holding our hands and leading us through the crazy loan process. We will recommend you to everyone we know going through the home buying process."
John H. – Sarasota, FL.
"It has been our pleasure to know and work with the staff at APR Mortgage. We have found that they tend to be the complete professionals in our business dealings with them. In the very competitive world of real estate mortgages, we have found that APR Mortgage not only meets our expectations, but far exceeds them. We are confident that our clients will receive the very best in service before, during, and after the loan process. APR has become our "go-to" lenders of choice. We would recommend them to anyone in need of mortgage services."
Robin S. – Sarasota, FL.
"After getting the runaround from two different lendors, my real estate agent referred me to the team at APR Mortgage. This was by far my best mortgage experience to date. APR Mortgage was very responsive to all of my questions and concerns, but most importantly always made me feel secure during the entire loan process."
Gary S. – Sarasota, FL.
"As a regular client of APR Mortgage LLC, I can say that I have found their website and services to be a an extremely valuable and useful resource for understanding and obtaining financing to help grow my home seamstress business. With the help of APR Mortgage LLC, I was able to purchase a professional grade monogram machine to grow my customer base even more. Thank you, APR Mortgage LLC."
Sarah – Professional Seamstress – Sarasota, FL.
"First, I want to thank APR Mortgage LLC for walking us through each step of the loan process and helping us to get a loan to finance our new pool. As a self-employed contractor I could not qualify with the mainstream banking institutions and was often turned down due to documentation. With the help of APR Mortgage LLC I was able to demonstrate the appropriate documentation and income levels that enabled me to qualify for a loan."
Jerry, Cabinetry Maker – Sarasota, FL.
"The APR Mortgage LLC information about private loans for foreign nationals was critical to our family. Although we ran a successful business in another country, we were unable to make a credit mapping for the banks here in the U.S. and were turned down. Thanks to APR Mortgage LLC we received a loan."
Vishnal – IT Software Engineer – Tampa, FL.
"I knew that when I came to APR Mortgage, my loan would be a difficult one. My loan officer never gave up on me and found me the mortgage that I was looking for. I was able to get a jumbo loan financed in less than 3 weeks at a much lower rate than I even thought possible. Thanks again APR!"
John R. – Venice, FL.
"I was blown away by how responsive my Loan Officer at APR was. Every time I needed something or had a question she was easy to get on the phone, was informative, and very professional. I'm very impressed."
Robert W. – Palm Beach, FL.